National Guard Seen Practicing For Trump Inauguration Protests In Portland, Oregon Resident Reported.
---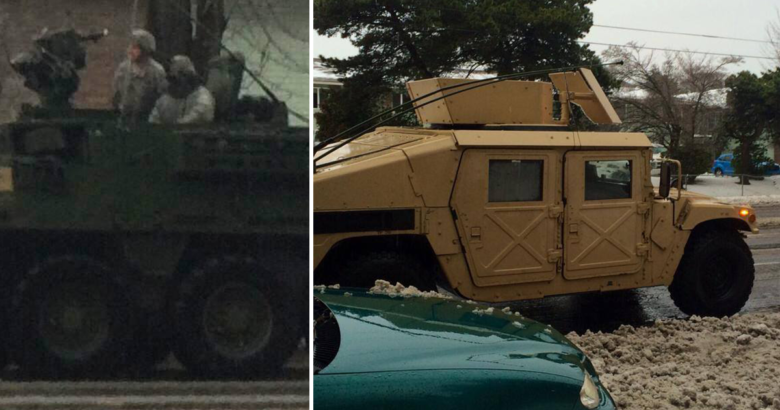 On January 18, Oregon news networks such as Oregon 12 news, KPTV.com, and KATU.com reported that the Army National Guard was brought into Portland, Oregon to assist with a "state of snow emegency" following the massive snowstorm that hit the Pacific Northwest. Reporters for KATU news were told by a representative for the Oregon Army National Guard, "the soldiers were checking out road conditions and will be deployed to assist as needed, especially to support ambulance traffic on Interstate 84."
Oregon 12 News also reported: "Gov. Kate Brown declared a state of emergency last week due to the massive snowstorm that dropped more than a foot of snow around the metro area. That made state resources available to respond, including the Oregon Army National Guard."
Local residents questioned the reasoning for bringing in heavily militarized vehicles for a snowstorm, but most didn't think any further. At Oregon Daily, we discovered a different story lead that could also be true. (The report below is an opinion piece.)
Tatyana Bondarchuk was an eyewitness to seeing the National Guard in her neighborhood and also provided us the images you see in this article.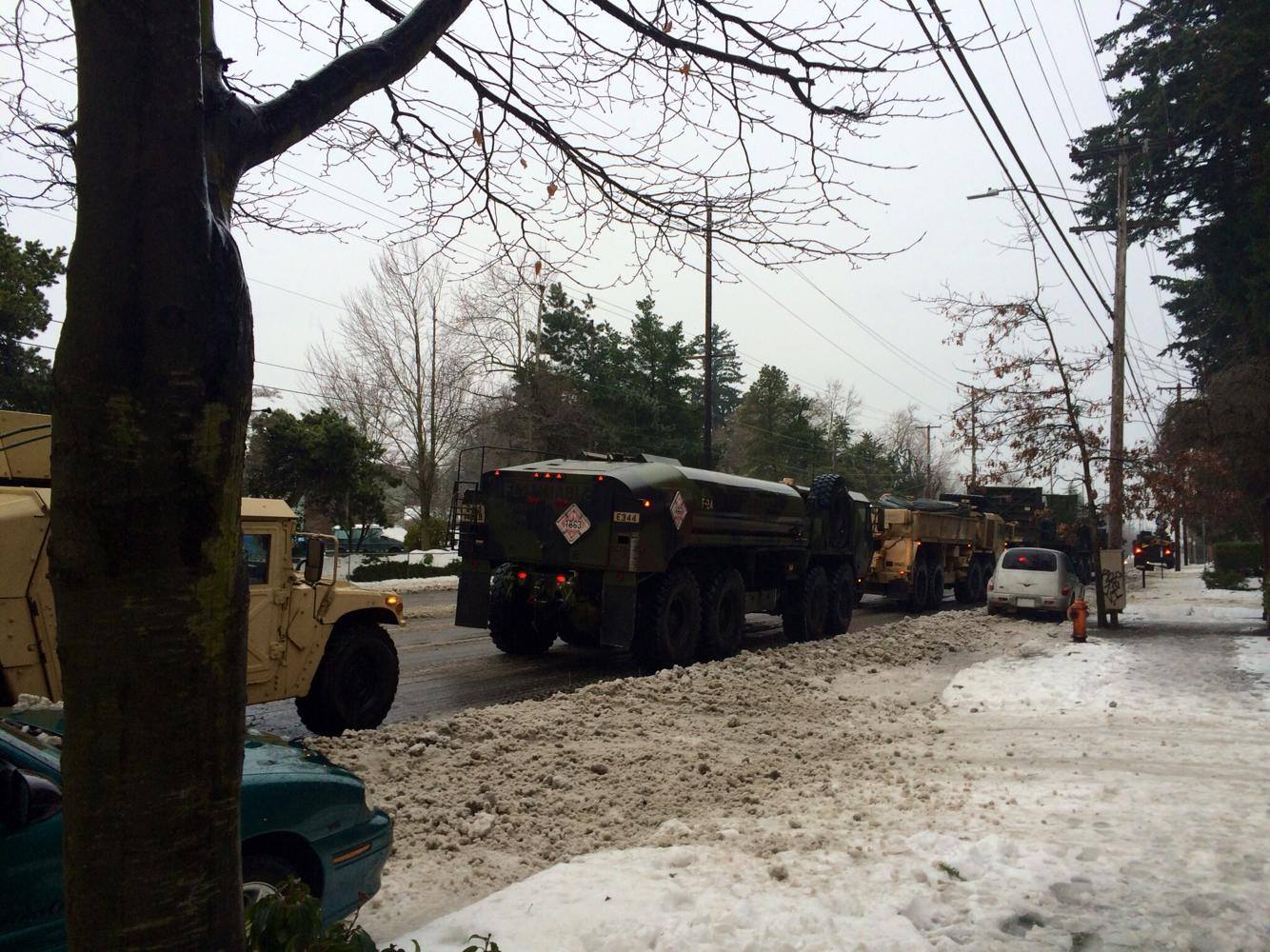 After observing the soldiers, she noticed that they did not seem focused on checking out road conditions or concerned with helping civilians get through the snow. "The troops appeared to be practicing for something or training for an event or protest," Tatyana said. They lined up their military vehicles along SE Stark street. Tatyana was able to take pictures of these vehicles around 3:30 pm on Jan 17th. Tatyana thought that perhaps, "They are getting ready, in case they get activated for the protests for the inauguration on Friday." These pictures were used with permission from Tatyana, a Portland, Oregon resident.
The National Guard will often step in and help times of extreme weather, however Tatyana believes this operation had to be some sort of training event. OPB.org later reported that the National Guard will be used if necessary during the protests.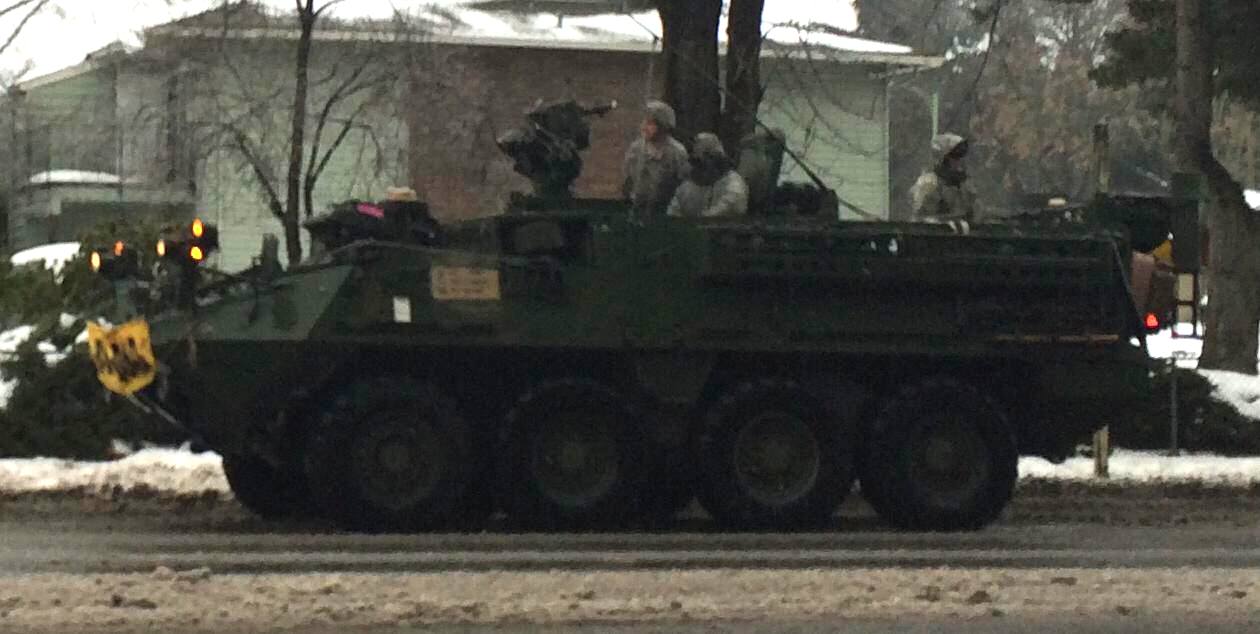 Trump's inauguration will be held on January 20, 2017 and multiple local protests are scheduled for that day. The National Guard is bracing itself for pre-inaugural protests across the country and Portland, Oregon could be a hot spot according to many scheduled protests for that day.
At this time only one news source has reported the possibility of the Guard being used during protests. "Gov. Kate Brown has offered support from Oregon State Police and the National Guard in the event that protests become violent," reported OPB.org.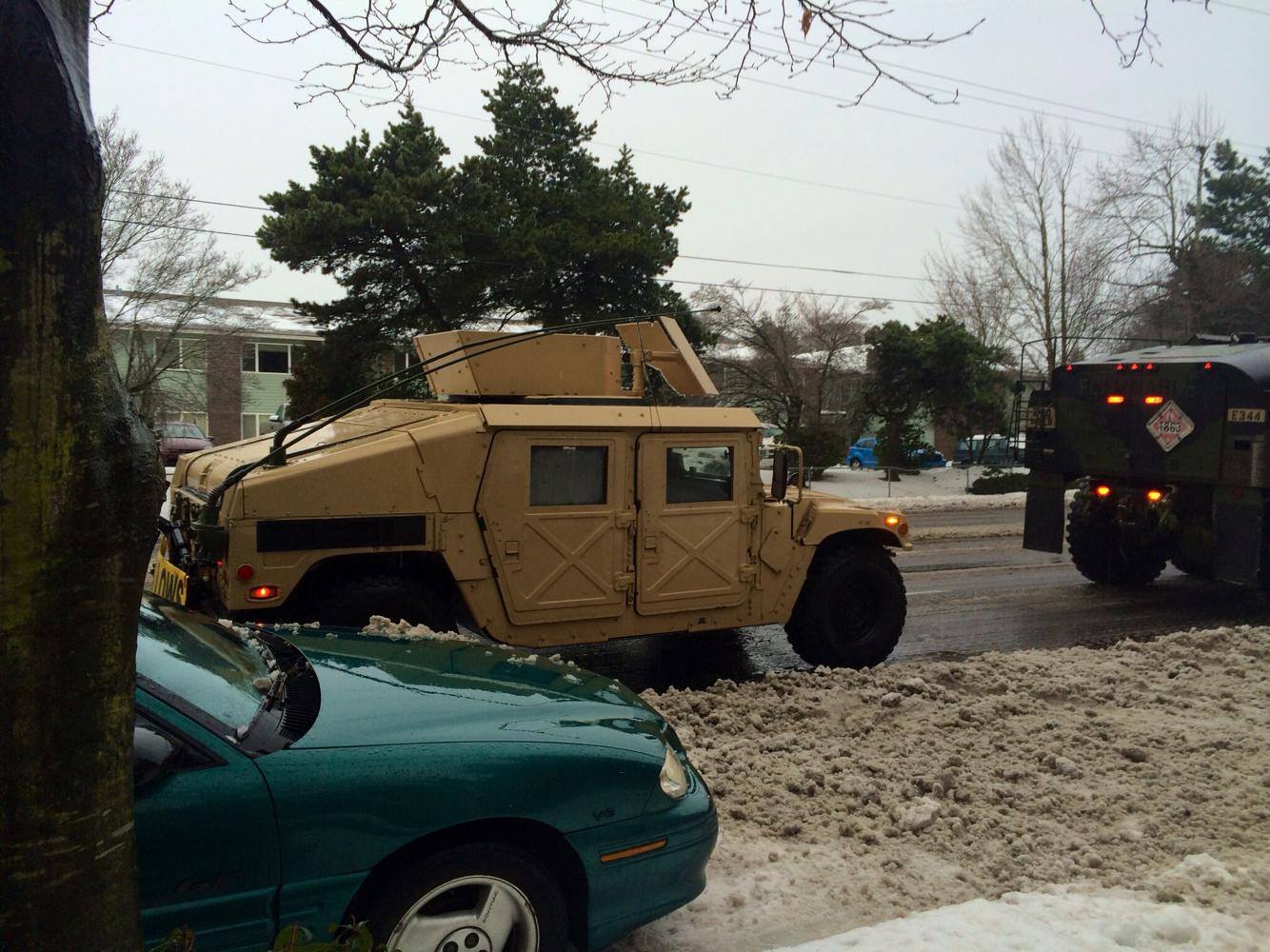 We can neither confirm nor deny that the National Guard was in fact being brought in preparation for Inauguration Day besides offering support for the weather conditions.
But Portland won't be the only city getting extra police attention.
All throughout the country, law enforcement are mobilizing forces to effectively handle mass protests. Washington D.C. itself will be implementing "mobile Booking stations" to process offenders and issue citations more efficiently at the inauguration. It's reported that 3000 active duty policemen as well as 5,000 national guard will be stationed in Washington D.C. according to TMZ. Many other locations are also mobilizing their forces and bracing for the protests which are scheduled to occur on January 20, 2017.
Share this article with your friends and follow Oregon Daily on Facebook and Twitter to stay up to date with recent events in Oregon!
(This article may include thoughts or opinions which are not officially held by Oregon Daily)